Mid-Century Modern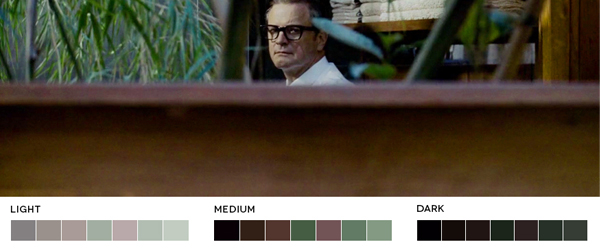 Mid-Century Modern Architecture Design in the movies
It's not just Mad Men making MCM look good
When we close our eyes, our dreams are most certainly staged with clerestory windows, perfect patio spaces, and Danish-inspired furniture. Filmmakers get to make the settings of their dreams a reality. Mid-Century Modern design has remained a constant choice for a backdrop not only mid-century storytelling but can be see in many movies on the big screen. The spectrum of style and influence of Mid-Century design is as wide and as versatile as the tastes and interest of its fans. It should be no surprise that this era of time would be appealing to serve as a set for many projects.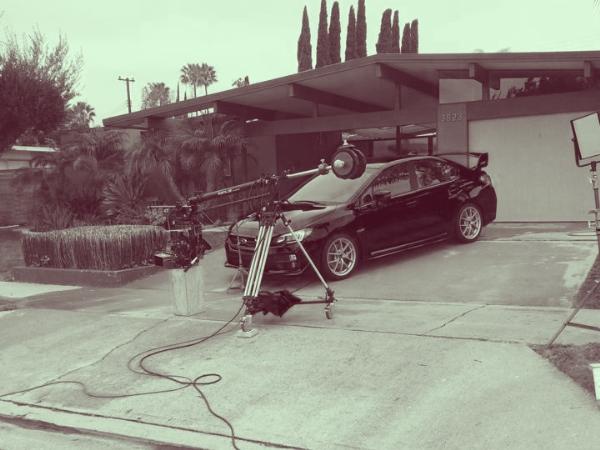 Mid-Century sets are not only used for stories being told about life during the Post-War Period; many are set in current times. Even Hollywood power couples like Brad and Angie fantasize about Mid-century lives. Their "Domestic Bliss" photo shoot for W magazine was downright amazing! There is a continuing demand for Eichler and Mid-Century designed homes to be used as active sets to film in. I caught the premier episode of HBO's new series Silicon Valley last night. The episode teased a few quick flashes of the exterior of the young web-developer's home that appears to be an Eichler.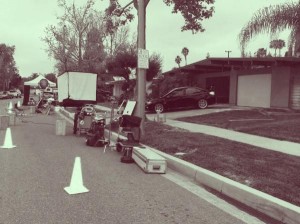 Of course we were thrilled to see an Eichler home featured in a Super Bowl commercial this past season. Having your Eichler home used as a set has its pros and cons though. Eichlernetwork.com wrote an interesting piece awhile back about the inconvenience of the takeover that happens, but for many, the paycheck that follows is worth it. One pair of Eichler-owners used the income from CSI episodes and the filming of Employee Of The Month (2006) to finance a restoration of their entire property. We have helped many production teams pair up with Eichler owners for projects like the images shown here from a recent commercial shoot.
Of course we could list iconic films like Pillow Talk (1959), Diamonds Are Forever (1971), Lautner's Treehorn Residence from The Big Lebowski (1998), and who didn't want Cameryn's house from Ferris Bueller's Day Off (1986)? The Brady Bunch home and the phenomenal set design of the Mad Men series deserve posts of their own. James Munn's "Design In Film: The Modern House" is just over 11 minutes long and jam-packed with MCM cinematic jewels. Instead, we thought we could show some of the other MCM gems that you may have overlooked?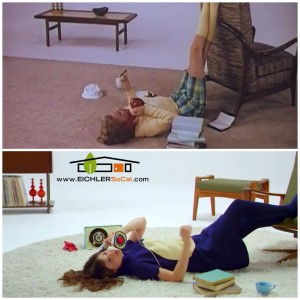 She & Him: Current taste-makers and even young Millennials continue to be drawn to Mid-Century style and a throwback to a period of time they were not even around to experience. MCM influence is obvious in current home and fashion trends. Musical act She & Him have a love for this era in both music and style. MidcenturyModernist.com noticed a striking influence between a 1958 film, "American Look," made by Chevrolet, and the She & Him video for "Don't Look Back." Both fun videos to watch, especially one after another. Follow the link here, and see for yourself.
The Vandamm House: In 1958 while North by Northwest was in production, all of the world had their eyes on Modern Architecture. It was assumed Wright would work on the upcoming Warner Brothers movie, The Fountianhead, but deals fell through during negotiations about budget. We came across a great read on this subject along with some information on the fictional Vandamm home from North By Northwest (1959) here on jetsetmodern.com. Of course this can be included in the iconic MCM film sets category, but I also discovered Etsy.com can be a wonderful source of MCM inspired film prints. The movie poster print shown here would be a great addition to a media room or home office in your Eichler.
The Parr House: You may not recognize the owners of a Mid-Century property by their formal names of Bob and Helen Parr. In many households they are known as Mr. Incredible and Elastigirl from Disney Pixar's The Incredibles (2004). The suburban home the Parr family is relocated to is one we really wish was a real property to visit. The chairs alone are worth watching for. Pixar continues to suggest the time period the film was to take place is ambiguous, but the overall style of the characters and set seem to be Mid-Century to us. Of course Pixar made a short film (they are kind of good at that stuff) describing the set design for the project. Pixar loves bringing the outside in as well. A large atrium at Pixar headquarters is accessible to all employees to develop thoughts, collaborate ideas, and keep them inspired.
 Suzy Bishop's Well, Entire Life: The films of Wes Anderson are known for meticulous care and attention to set design down a scribble on notepaper that may be seen on camera. Anderson's use of color is so tactful many even consider the palettes of his work to become characters as well. We love this tumblr account dedicated to that very subject. The set of Moonrise Kingdom (2012) includes many great furniture pieces (those sliding door bookcase benches in the kids' room would be great in an Eichler!) and wardrobe choices that lean toward the Mid-Century Style. The set of Anderson's Bottle Rocket (1996) is also worth a mention.
Just what is the appeal of Mid-Century Modern style? The National Building Museum challenges that perhaps it is independence. The carefree single lifestyle, an empowered working women, evil supervillans. Films from the 50′s and 60′s showcasing these ideas and characters still resonate today. Mid-Century Modern influence is not going away. If anything it is gaining momentum. Recent films such as Crazy Stupid Love (2011), A Single Man (2009), and Ghost Writer (2010) have made that clear. If you are a Mid-Century enthusiast and a film and television fan, then there is even more of a call to action to make sure our Orange County properties get restored properly and maintained for future use. Contact us today if you have any questions or may be interested in being included on an upcoming project–we would love to get you involved!  Our number is 714.376.0212.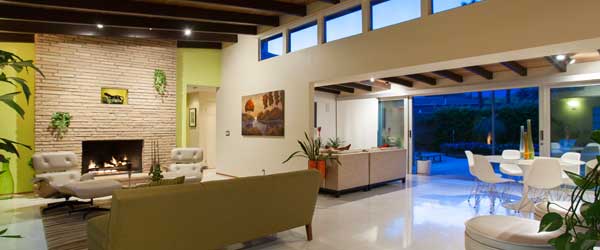 Palm Springs' Modernism Week: Scene and Style
Palm Springs' Modernism Week: Beyond the Architecture

Palm Springs' Modernism Week 2014 came to a close on February 23rd, but the last party wasn't limited to only celebrating architecture, as designer Trina Turk offered the final lecture before the closing soiree in a manner that perfectly married style and estates.
Inspired by the multicultural mix of architecture and landscape in Southern California, Turk's style––and voice––was a natural fit in wrapping up the activities (at the Annenberg Estate, no less). However, Turk's appearance wasn't the only style vibes being given off this past week; if you didn't attend, here's what you missed.
MODERNISM WEEK MUST: SHOP
The most obvious spot to have done any P.S. shopping during Modernism Week was at the Modernism Week Show & Sale. Tightly curated, the space had pieces that were deemed the best of each showroom present. While it wasn't limited to only mid-century modern dealers, the items were all easy to mix-and-match within that style realm. Take Neil Rasmussen's exhibit, for example: his antiques blend modern design and American western influence. Based in Menlo Park, many of his pieces end up in the surrounding neighborhood of mid-century modern Eichler homes.
Another favorite for furniture during Modernism Week was the Modernism Yard Sale. Held in the Paul Kaplan Group parking lot, the space attracted vendors selling everything from modern furniture to jewelry, and last year's even boasted a 1960's trailer––something the Kaplan Group knows a little about, as Matthew Reader, an agent, won best vintage camper for the 2014 Vintage Trailer Show.
While art is present at the Modernism Week showroom and the yard sale, a larger selection housing Warhol's, Dali's, and artists that are more contemporary sits directly adjacent. Although technically not related to Modernism Week, the Palm Springs Fine Fair concurrently exhibits with the Modernism Week Show & Sale. They're both in the Palm Springs Convention Center, maximizing your culture and, well, shopping experience.
Not everything in Palm Springs' Modernism Week was something saved from the mid-century, though. The Prefab Showcase and Modern Living Expo was an amalgam of architects' and designers' expert commentary morphed into an outdoor show space, more geared towards the incorporation of modern technology into your residence. Many of the products of the event were made to highlight green or smart technology, demo-ing ways you can modernize your current (or future) mid-century modern home.
MODERNISM WEEK MUST: MARTINIS (AND MORE)
If you weren't planning to rescue another piece of furniture, there were plenty of reasons to party during P.S. Modernism Week. Our insiders picked a favorite for this year's event: the Palm Springs Preservation Foundation Retro Martini Party. Touted as one of the most refined soirees of Modernism Week, 2014's PSPF event was held at the Walt & Lilly Disney Residence in Smoke Tree Ranch.
Another event that quickly sold out was the Palm Springs' Modernism Committee Annual Gala. Crafted around a Moroccan-motif, the party took place at the Bougain Villa, a residence that eventually became a collab between Modernism Week 2014's honoree Hugh Kaptur, and the renowned Albert Frey.
If you were staying and playing after dark, there were––and are––various P.S. events for every taste. Single-gal in your twenties? Peruse this guide. Looking to re-live the sixties? You should've been at the Purple Room's Monterey Pop Fest. Supper club-meets-music, the Purple Room hosted events nearly every evening during this week's gathering. In fact, remembering all of this has us already wanting to go back.
Tell us, what were your favorite events? What are you already planning for next year?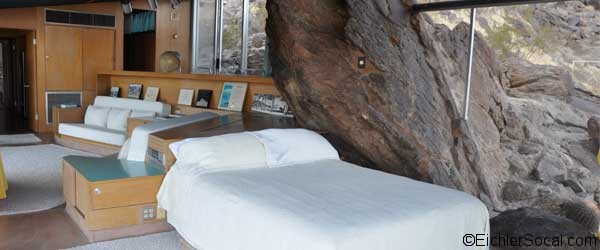 The Insider's Architecture Tour: Palm Springs' Modernism Week
Palm Springs and mid-century modern-everything has basically become synonymous. The two are so inherently linked that Modernism Week, the celebration of architecture that defines this desert city, has become one of the best places to view––and buy––modern real estate.
If it wasn't already obvious to anyone that's visited, Matthew Reader, agent at the modern architecture-niche agency, the Paul Kaplan Group, and 10-year Modernism Week veteran, sums up why this event pairs so perfectly with Palm Springs. " The coloring of our natural environs lends to much of the shadow and light play within details of even lesser buildings," he says.
These details are what has made this year yet another success for the festival and the real estate. After all, as Reader says, "The buildings are impossible to ignore, even if you're not a great aficionado of architecture."
But even those familiar with architecture can run into an obstacle navigating a city this dense with gems; so, here's Reader's insider picks for the best Palm Springs' architecture of Modernism Week 2014:
PALM SPRINGS' ARCHITECTURE INSIDER PICK 1: ALBERT FREY
"The private residence of Albert Frey is always a standout," Reader says. "The location––on the mountainside behind the art museum––affords it spectacular views, and being built into the mountainside with the rock protruding into the home is an early example of the lines between Palm Springs indoor-outdoor living being blurred."
Frey has always been an iconic designer of Palm Springs, producing notable landmarks such as the Palm Springs' City Hall and the Aerial Tramway, but this house is especially recognized for its small, compact space. "I love the built-in furnishings, and the hi-fi is a favorite…the efficient galley kitchen is another great feature of this love letter to compact living."
PALM SPRINGS' ARCHITECTURE INSIDER PICK 2: THE SIVA HOUSE
Another favorite of this year's festival is the crown jewel, the 1959 Siva House. Also known as the Russell house, it was envisioned by Detroit-transplant Hugh Kaptur. The residence is truly emblematic of what we think of as mid-century design, in that its focus (like Frey's), isn't on what's inside but rather the perfect marriage of both the indoor and outdoor space.
Carved into a spot above Palisades road, the endless panels of glass look over the assorted Palm Springs landscape, with blocks of color mirroring the bright interiors: golf course, second homes, and mountains abound. The interiors were picked from the Palm Springs' mid-century furniture scene: think Maloof end tables, a Hans Wegner daybed, and Nakashima barstools.
While the current owner's didn't opt to stay exclusively in mid-century style for every option, the home was thoughtfully updated to stay considerably in-line with the selection of 1950s pieces. In fact, it wouldn't be surprising if the owners of the Silva home exclusively shopped from the Modernism Week Show & Sale</> to outfit their home.
PALM SPRINGS' ARCHITECTURE INSIDER PICK 3: THE LOST & SAVED
[o
Reader also suggests visiting the Edris House, and even the sad, oft-maligned Town and Country Center. "It's certainly one of the loveliest designs by A. Quincy Jones," Reader says, "It's really a disappointment that the owner does not take more of an interest in it or make it available to someone who cares."
This degradation of P.S. landmarks isn't uncommon, unfortunately. While many lectures at Modernism Week touch on this subject, Gary John's talk is the standout. "It's one of the most eye-opening and informative presentations that I've see," shares Reader, adding that it's an event he makes a priority to attend each year.
If it's been tricky to get spots on many of the tours or watch the lectures, there are also resources to either get first draft (sign up as a Palm Springs Modernism Committee member) or download the newest Palm Springs architectural tour app. It details over 80 mid-century landmarks by location, or architect. This app is an important supplement to any Palm Springs' trip, regardless of season, because like John's lecture, it really touches on the triumphs (and disappointments) of preservation efforts in the city.
While it is heartbreaking to read about the landmarks that have been destroyed by arson or simply a really horrible re-design, the degradation of some properties make the standout saved ones even brighter. Our favorites include the Tramway Gas Station and Fire Station No. 1, both rehabilitated landmarks in Palm Springs.
PALM SPRINGS' ARCHITECTURE INSIDER PICK 4: GROW YOUR OWN
Perhaps the easiest way to enjoy the architecture in Palm Springs is to do the obvious: get your own place. Palm Springs is the perfect second-home option, thanks to the year-round sunshine and ability to preserve key mid-century modern architecture. For purchasing, the usual suspects are always stand-outs (think Wexler/Harrison, Albert Frey, A. Quincy Johns, Stewart Williams, Palmer/Krisel), but options such as renovated Alexander Construction Co. residences are also a safe investment.
Note that investing in modern real estate should always be done through an educated agent; many of these homes have been renovated and stripped down to the bolts, so it's important that whichever piece you do chose to invest in strikes the right balance between modern and thoughtful updates.
Now that Reader has shared his favorite architectural gems, tell us, which sites do you plan to visit (or have visited) during Modernism Week? We'd love to hear.