Eichler Garage Sales Details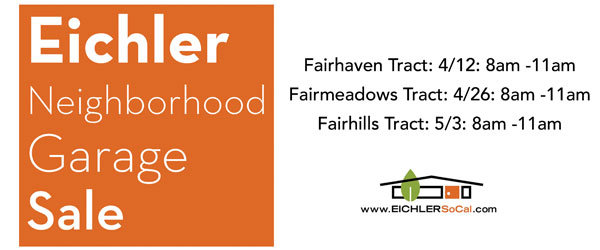 We are very exciting for upcoming neighborhood garage sales for the Eichler neighborhoods.
Fairhaven Tract : 4/12 – 8am-11am
Fairmeadow Tract : 4/26 – 8am-11am
Fairhills Tract : 5/3  – 8am-11am
We will handle the advertising , put up directional signs and take care of any permits. If you have any questions, feel free to email us, or give us a call. (714) 376-0212
Here are a few tips!
 A group sale is better then selling alone. More stuff draws more traffic.
Be prepared. Be ready to go the night before so that you don't have to rush around in the morning.
Plan your sale layout with customers in mind. Use marketing tricks to make your customers more likely to purchase your stuff!
Price things carefully.
Clearly label your items.
Display like items together.
Keep your space organized.
Place large items in the front.
Be friendly. Greet people as they arrive — chat if they're chatty.
Do not bad-mouth your items.
Be active, friendly and smile.
Be willing to bargain, but be less flexible at the start.
Keep a ledger. Jot down a description of each item and how much you sold it for.
Do not use a cash box. Keep your money on you at all times.
Have some extra help on hand.
Offer last minute deals