Eichler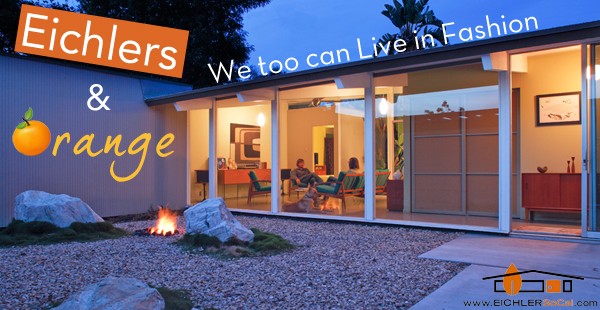 Lifestyles of the not-so-rich and less-than-famous Joseph Eichler's in Orange, California
Today it is virtually impossible to find a neighborhood that isn't coated in stucco and topped with red roof tiles. Lawn after lawn, arched entry after arched entry, these suburban repositories too easily blur and succumb to a lackluster uniformity. This isn't to say that these houses aren't homes, that they don't serve their dwellers well. This is to say, these houses are now all too common lining the Southern Californian topography. This is to say, get out of town and consider a visit to Orange, California, where the character of postwar American lifestyle is preserved in a dynamic and vibrant community.
Back around the 1960s, developing in the lap of Southern California's coastal hills, Joseph Eichler built the Fairhaven, Fairhills, and Fairmeadow tracts to meet middle-class families looking to settle out West—to get a piece of that sun-kissed California pie. Even today these neighborhood streets meander through homes that are beautifully maintained and charming in their age. Driving through Eichler's vision-made-reality gives rise to images of the California lifestyle—a fashionable dream of communities embracing coastal, suburban living to get away from the noise and grit of the city. Eichler's houses are unparalleled in modern design. Their broad faces, flat roofs, and floor to ceiling windows are a bold statement to every home owner that says, "archaic, perhaps, but never outmoded." 'Retro' is how some would put it, but these homes aren't retro for retro's sake. They are the basis upon which retro is defined, and to live in an Eichler home is to maintain the legacy of Modern design.
Wouldn't mind living in one of these neighborhoods, you say? Well, to choose a house in Fairhaven, Fairhills, or Fairmeadow is to choose Orange, California, as home. Fortunately, the character and charm of Eichler's design carries over into Old Towne Orange, a quick drive from any of these neighborhoods. There the district is an active public space built around a roundabout with a fountain and benches, called the Plaza. It's where musicians perform and buskers play. The Plaza is that precious bit of urban space reserved for unabashed cultural exchange. And all around the Plaza sit specialty shops and eateries and drinking holes. Consider Haven Gastropub where you might enjoy some of their many beers with an appetizer of thinly sliced, fried pig's ear (Yes, it's delicious! Imagine a chewy French fry that tastes like bacon) or a radicchio salad that will change your mind on how ridiculous the word 'radicchio' sounds. Feeling like a sweet treat? Try A la Minute ice cream. There you'll find a palate-bending assortment of handmade-to-order ice creams. Choosing between a scoop of the fresh and bright mint chocolate chip or a scoop of the luxurious avocado and honey is the hardest part of visiting this parlor—trust me. After all that, if you're well and full, perhaps a perusal around one of Old Towne Orange's antique shops or vintage dealers will help you find that gift or home-good you've been looking for.
So give Orange, California a try. Stroll the neighborhoods, cruise the town. You may, however, leave with a sweet tooth for the Modern home or the unshakable charm of Old Towne Orange. You may even fantasize a little about your own home in one of Eichler's fairhoods. There is no doubt that where we call home defines a large part of who we are and dictates our notions on lifestyle. Here in Orange, Eichler neighborhoods are a symbol of those notions. Situated in sunny California, designed for entertaining company, and a short ride to downtown, to Disneyland, or to the inland deserts, one cannot deny the draw Eichler homes have held over so many decades. They are beautifully crafted houses and are cared for in a community that actively shares its passion for the domestic, for establishing the comforting sense of home; Eichler's neighborhoods are a testament to the dream of having choice in how you live your life. Visit. It's at least worth the fried pig's ear and avocado-honey ice cream.