Eichler History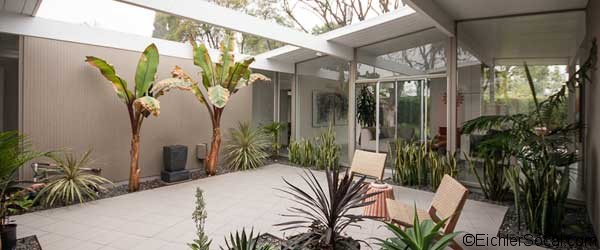 In our third installment of "Life in an Atrium: 30 Years as an Eichler Resident", Torchy Hunter goes room by room, helping explain the pros and cons of Eichler Living. Torchy lived in an Eichler home in the Bay area, so her  home may have been a floorplan that was not built in Southern California. We hope you enjoy the article, if you have any stories about living in an Eichler Home or any Mid-Century modern, be sure to
contact us.
Part I, Atrium, Living , Dining, Garage –
You are going to see the inside of an Eichler, let's say the four bedroom with atrium model.
You've already seen that roof that seems any minute about to fly off from the rest of the house.  Some people think it looks as if it is sheltering.  (Did you see Eichlers in two Super Bowl Commercials this year?) You enter the atrium, and now is when you discover what that word atrium means:  a central garden area accessible by the whole house, a place for gathering.  This area can handle very large leafed plants, like giant bird of paradise, Greek key plant, philodendrons.  It will get lots of light but not all day, because the shadows show up either early or late, blessedly. It will also handle  very small humans, so no planting poisonous stuff.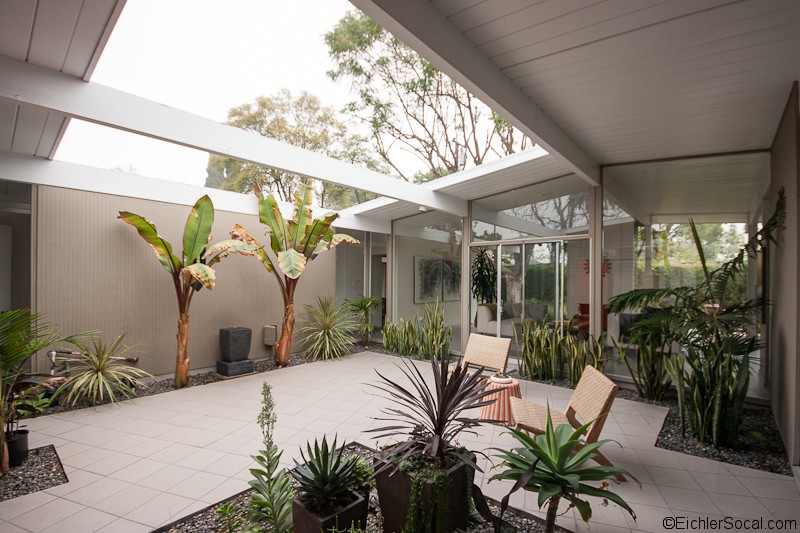 In the atrium, you are in the middle of the U and the front door is directly ahead of you.  It opens into the living room with a floor to ceiling fireplace and all the walls are glass.  Wow..  How you arrange furniture in here depends on what kind of kids you have.  If you have boys and put the couch in front of both the door and the fireplace, it will be used as a pommel horse for vaulting into the living room.  You cannot make them stop doing this.  This arrangement has a lovely advantage, too:  you can sit and watch the fire.  Often people would put their Christmas trees on either side of the fireplace, tempting lots of gods:  fire, glass, falling. Once on the couch, you can see into the back yard, or look behind into the atrium to check on any passing small humans.
As you face the fireplace, the dining room is on your right. There was a sliding pocket door between the dining room and the galley kitchen, which could be closed, hiding the mess in the kitchen from your dinner guests. How classy is that? The stove is much lower than you remember, but it really is designed so you can see into the pots on the back of the stove.    The original Eichlers had cabinet doors that slid back and forth, which I loved because you could never whack your head on open cabinet doors..  But you can only see half the contents at any one time.   So the kitchen looked halfway neat most of the time!  There was a butcher block top set into part of the counter, which I thought was genius: yet another piece of stuff I didn't have to buy. Then comes quite a large area (TV, desk, play room, your choice) which leads to the garage door.  In the garage I kept my extensive tool set: a dinner knife, pliers, a saw, and a hammer, which I used interchangeably.
I never liked the wood paneling on the walls because it was so dark, which none of the neighbors seemed to have a problem with.  Years later, I  understood the original owners had them stained walnut, as opposed to honey like most people.  So I painted them white.  This drew the glaring eyes of the purists:  the Do-not-change-anything-in-the-house people.  I would have changed the ubiquitous grey floor tile, too, but the heat from them was past luxurious.  If it was a cool morning, sliding your feet along the hot pipe made everything lovely and warm, like home.  Some people put carpeting in various rooms, effectively insulating themselves from the heat.  They were kind of defensive about it:  "carpeting doesn't prevent the heat from getting through, it just delays it sorta."  These people never understood the concept of staying warm by dressing in layers.Throughout the house were the round white bulb light fixtures.  I loved them.  When you thought you were becoming blind,  you just stood on a chair and washed the dust and bugs from the top of them, and you could see!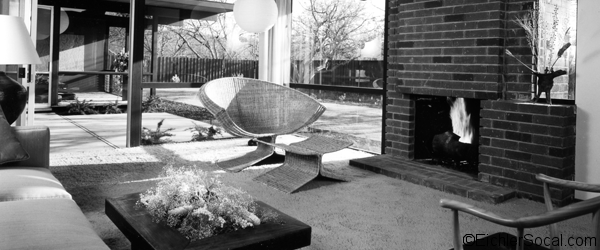 Welcome to a brand new series here at Eichler SoCal.  "Life in an Atrium: 30 Years as an Eichler Resident". Torchy Hunter moved into an Eichler home in the bay area and is now sharing her story with us. We hope you enjoy the article, if you have any stories about living in an Eichler Home or any Mid-Century modern, be sure to 
contact us.
30 Years in an Eichler, The beginning –
Eye­klure? What's an Eye­klure? I asked just after returning to San Jose from two years living in Florence. That Florence. Italy, palazzos, monumental sculpture, the Uffizi, the Ponte Vecchio. People told me to look for this Eye­klure while I was house hunting and so depressed to be seeing nothing but California ranch style :the "ticky­tack" song had come out the year before.
Then I saw one. What are those houses? No windows on the street, peaked roofs, translucent glass in the car port seeming to enclose an atrium? Somebody knew what an atrium was? A Realtor doubtfully told me only 10% of the house­ buying public would buy one of them, but that 10% wouldn't buy anything else. A few months later we bought the next one that came on the market, and the first night we slept on the floor because the furniture had not arrived. We kept feeling like we were getting away with something to be in such an amazing space just for us.The previous owner had left a George Nelson ball clock on the fireplace they wanted us to buy, but poverty stricken ­first job people who had just paid $25,000 for a house had to pass.
I kept that house for 30 years; my kids grew up there, friends were made who are still friends. It was a classic Ivory Tower. Outside the streets of Eichlers were ordinary people doing ordinary things, but nothing seemed ordinary inside. People were all about the same age; had kids the same age, had professional jobs, made about the same amount of money, were of every creed and color, which the kids never noticed, and had liberal, if not left politics. Every holiday was celebrated, and some created: there was an art festival that began with people hanging art on their fences. It went for 28 years until the city shut it down for no outdoor toilets, or sufficient crowd control, or lack of commercial licenses. Every 4th of July, I gave the neighborhood kids Magic Markers and they put different colored spots on our Dalmatian.There was an increased sense of neighborhood because the houses had attracted somewhat unusual people and put them all together. Individuals were free to pursue whatever pleased them. One guy had turned his garage into a model railroad layout and wore his engineer hat while in there. Another guy built huge, dump­ truck load size sand castles in his driveway. I knew of at least two families who swapped their children during some difficult ­teenage years.
Atria, function of: A baby could be set up in the atrium in a playpen, or set on the floor, and if you weren't too picky about whether they ate dirt or not, could stay there for hours, while mom, inside, could do whatever she needed to, all the while able to see the kid. Actually, this applies to a baby anything: dog, cat, salamander, turtle,iguana. It was the center of the house, from which everything was visible and everything began or finished. "Put your coat on and meet me in the atrium."
Be sure to check back for the next chapter in "Life in an Atrium: 30 Years as an Eichler Resident". If you have any questions, or would like to find your dream Eichler home, be sure to contact us at anytime.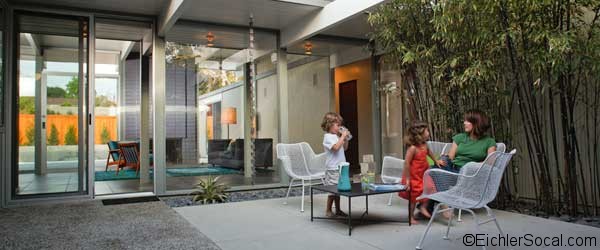 A survey by the American Institute of Architects (AIA) revealed 64% of architecture firms report that their clients express an increased interest in outdoor living spaces. Although Americans may be spending less and less time outside, they still need proximity to a green and living world. Eichlers, with their glass walls and atriums, satisfy this need handily.
Although a few Eichlers exist in New York, developer Joseph Eichler built designs primarily for California and hired architects that believed in integrating the home into the surrounding environment. While floor plans of Eichlers may differ, they contain common elements that expressed Eichler's desire to bring sunny California climes into his homes.
SoCal Eichler Neighborhoods & Floor Plans
[one_third]Fairhills – Orange[/one_third][one_third]Fairhaven – Orange[/one_third][one_third_last]Community Photo Gallery[/one_third_last]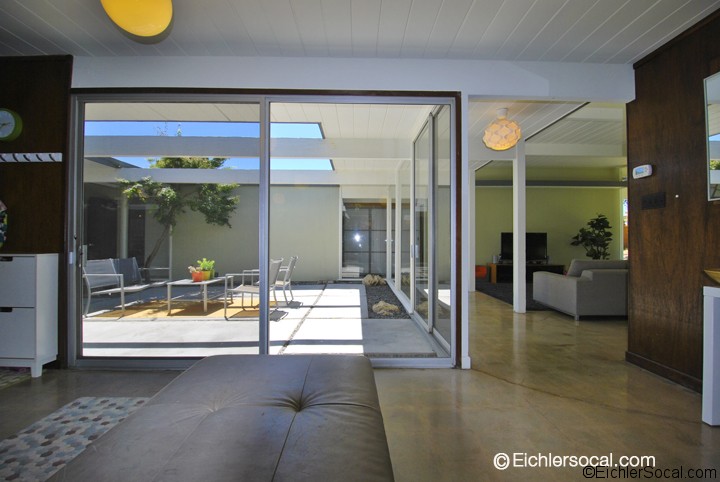 The key element of "bringing the outdoors in" is the central atrium found in most Eichler homes. Newcomers are startled – and delighted – to learn that stepping inside an Eichler often means stepping outside into a private secluded open atrium. While some homeowners use this space as little more than a second front yard or extended foyer, others develop the atrium in unique and fascinating ways, such as a private Japanese garden, an area where yoga enthusiasts perform the sun salutation outside in complete privacy, a space for parties and even outdoor home theatres. For those Eichlers in which bedrooms open onto the atrium, it serves as an extended living space and has the effect of opening the world for those that live there.
The atrium isn't the only element that satisfied Eichler's desire to bring the outside in. Huge windows that double as walls grace the rear of many Eichlers. This has the effect of opening the kitchen and the spare room to the backyard. While Eichler kitchens tend to be small, they never feel small because your gaze is invariably on the world outside. Opening the rear of the home to the outside makes it easy to keep a half an eye on small children playing in the back yard. Moreover, the flow of energy from the kitchen to the backyard makes dining on the outside deck a regular year round option.
Well-placed skylights and transoms systematically bring the outdoors in. Hallways that would otherwise be dark become bathed in natural light, which complements the wooden tongue-in-groove ceilings, natural wood and post-and-beam construction. Even the formal dining room found off the kitchen in many homes receives natural light flooding in from the kitchen.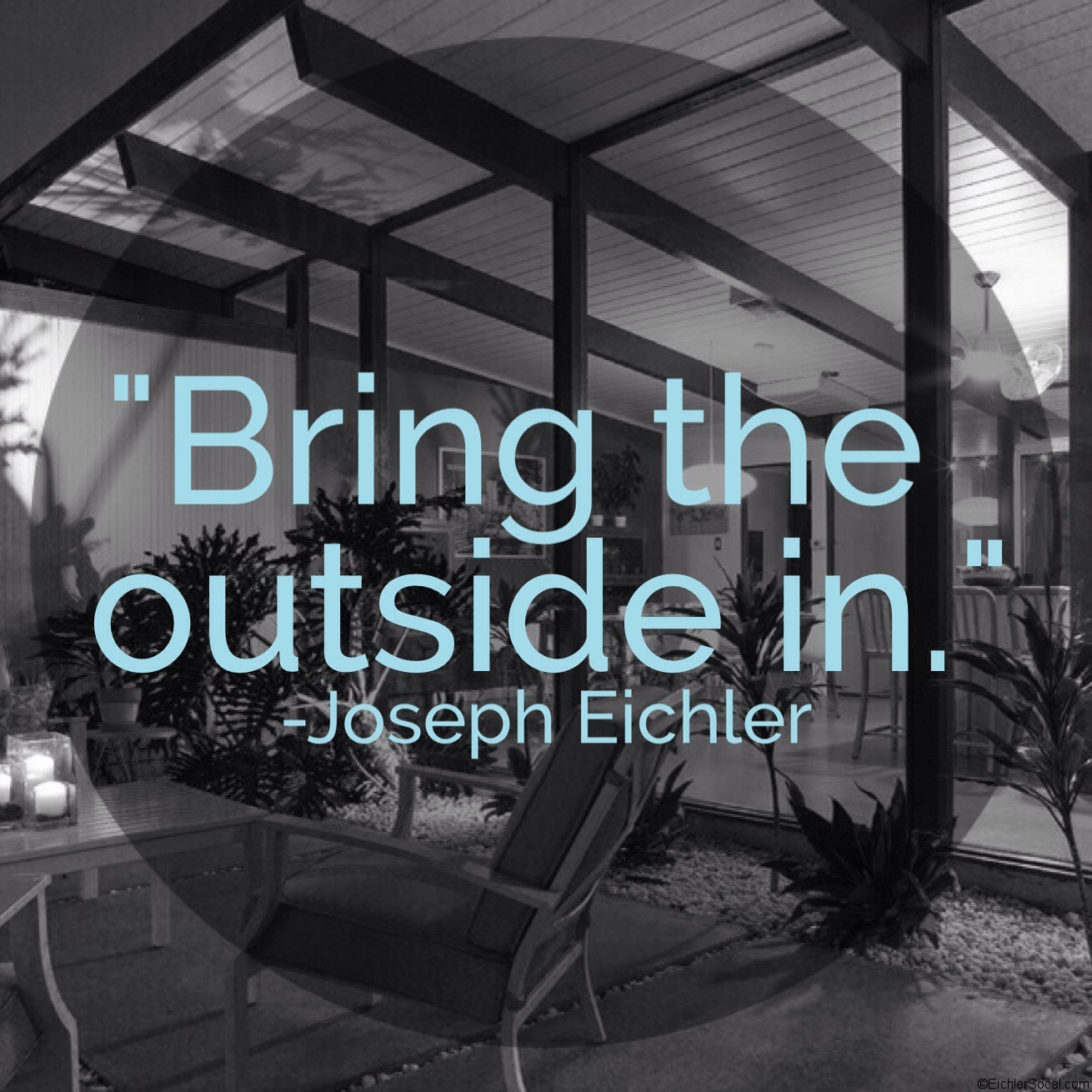 The magic of an Eichler is that all these elements combine with a closed front to make the outdoors yours. The closed front of the house gives the sense that the external concerns are far away. You go home to an enchanted world that opens outside, but leaves unwanted problems on the front curb. In that sense, Eichler created an charmed world for young families of the '50's and '60's to grow up. While some other modernist approaches often feel cold, Eichler's emphasis on bringing the outside in creates feelings of expansion, warmth, and growth. The wisdom of that approach is reflected in their enduring appeal and enhanced value.
As always, please feel free to contact us with any questions you may have, or if you are looking for the perfect Eichler Home for you! Contact us
Article written by our contributing writer: Megan Winkler