Jones & Emmons Fairhaven Eichler Sold!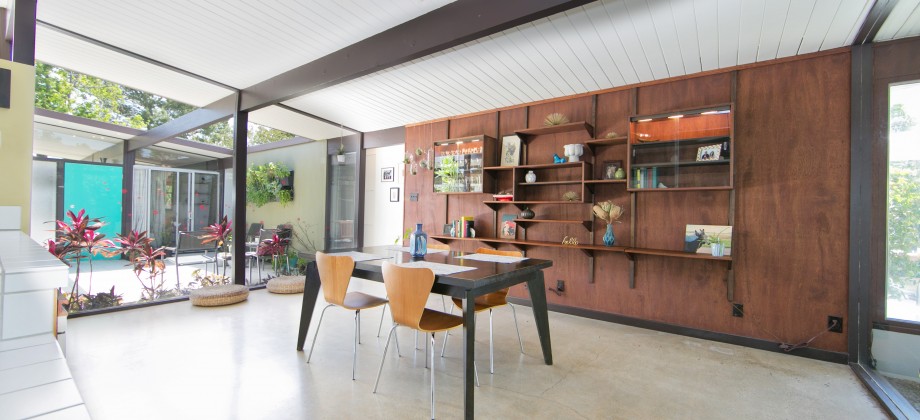 ID: PROP-4453
2781 sq ft
4 Beds
2 Baths
Published:

April 17, 2015

Living Area:

2781 sq ft

Lot Size:

11326 sq ft

Architect:

Jones & Emmons
Features
Central AC & Heat
Concrete Floors
RV Access
Solar
This property is now in Escrow!
"There's no replacement for displacement." It's an old hot rodder saying that no matter what you do, sometimes you just need a bigger engine. And the same can be true for Eichler Homes. Sometimes you just need more space…for family time, for hobbies, for life. Unfortunately, Joseph Eichler didn't build any homes in Orange County much larger than 2000 square foot. With almost 2800 square feet of indoor living space this home has room for a sectional couch that can hold 12 people for game day, a pool table, or a children's play area — or all 3! Central heating and air conditioning means you'll always be comfortable, no matter what time of year. The magic of an Eichler Home is in the lifestyle; walls of glass, an outdoor atrium perfect for unwinding in the evenings with a glass of wine, and most importantly of all, that sense of community that can only come from living in a neighborhood where people cherish the unique architecture of their homes. Sitting on an almost 11,500 square foot corner lot (w/RV access) in the Fairhaven neighborhood, you'll be right in the middle of the action. Life is full of choices, but the place you choose to call home is perhaps the most important. It's your home base, the backdrop to your life. Come visit our open houses and meet your new neighbors!