The Room Outside – Southern California Living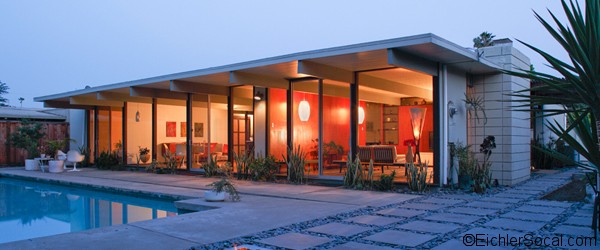 One of the most distinctive themes of mid century modern homes is the concept of inside/outside living.  Atriums and courtyards help realize this idea by creating an 'outdoor room' full of natural light which is shared with the interior space through windows and glazed doors.  It is well documented how levels of light can have a positive impact on our sense of wellbeing and this is one of the appealing aspects of living in a mid century modern home
These outdoor rooms form a welcoming entrance with roof openings providing natural light that bounces from surface to surface.  On a functional level, it also works as a buffer between the street and house, from the noise of the outside world to the order of home.
The atrium is a hallmark of an Eichler home and one of the most attractive features of an Eichler or, indeed, any mid century modern bungalow.  Although not always at the center of the home in true 'atrium' style this space is also to be found at the front of the building as a bright and spacious courtyard leading to the front door.
How we treat this courtyard is very personal to our lifestyle but used well this light and airy space can enrich our day to day lives and, ultimately, our quality of life. It is easy to make a feature of this architectural detail.  Here are a few treatments worth considering.
1. Planting & Sculpture
Planting is one of the easiest ways to link the exterior with the interior.  Succulents and grasses provide structure and interest with color, reflection and shadow.  Planting also helps to soften hard surfaces and provide contrast. A sculpture or piece of art that you enjoy creates a focal point particularly where the living areas surround an internal atrium.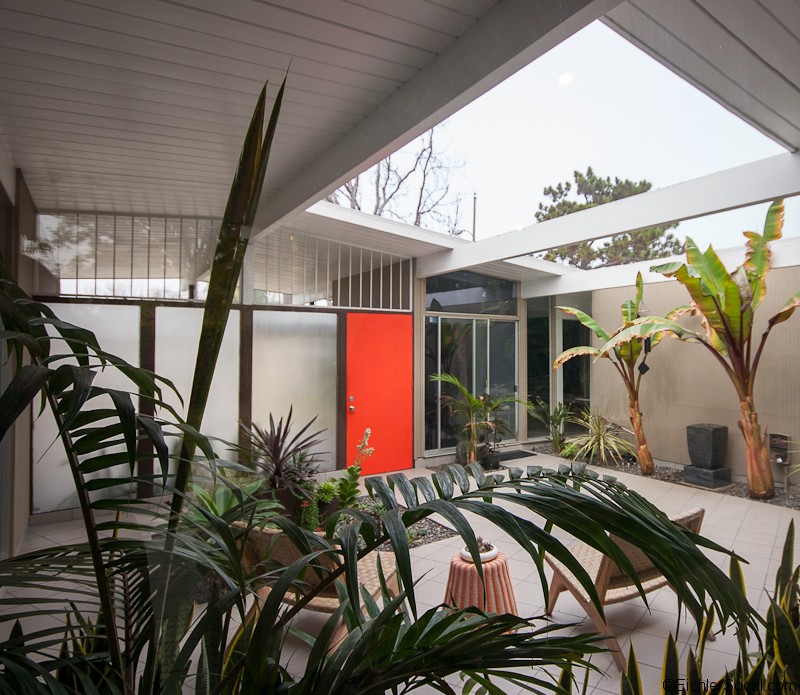 2.  Color & Material
Light colors on walls and ceilings bounce light around the space and provide natural interior light through glazed walls.
The front door is often the only feature that offers a pop of color.  Although Eichler's choice of colors were slightly muddier tones, modern trends are towards funkier oranges, greens and yellows.  Introducing color to the space by painting one isolated area to match the door color will create unity while continuing the color through to an interior wall will create an illusion of depth.
Tongue and groove exterior cladding and mahogany interior cladding were popular mid century materials.  Tastes have evolved and we now tend to opt for a paler palette.  Wood finishes can still be included by cladding a smaller area or by incorporating wooden outdoor furniture or planters.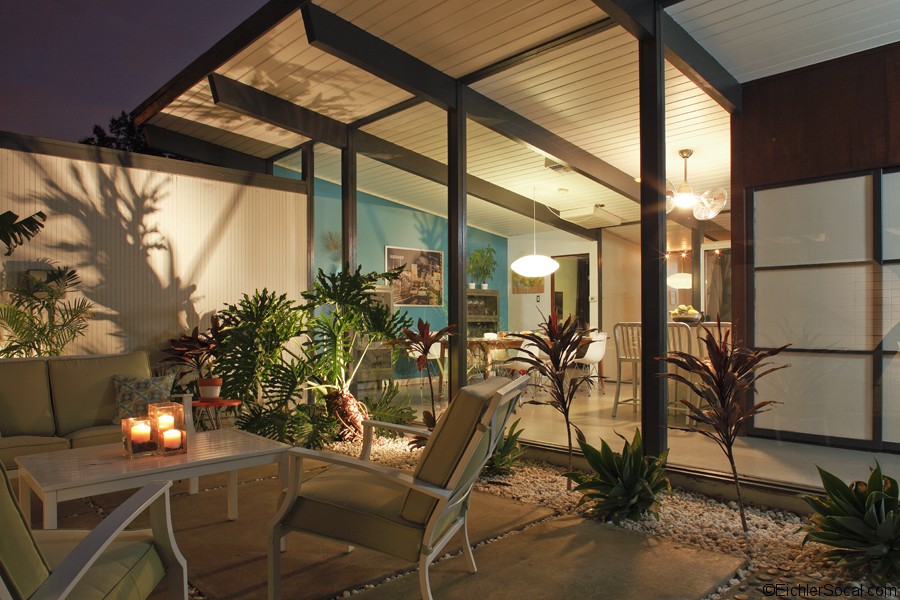 3.  Flooring
Flooring will easily unite the exterior with the interior.  Concrete and ceramic tile is a practical finish and works well to provide continuity between outside and inside rooms.  There is a strong trend for wood flooring on interior floors so using a similar tone of wood on cladding, planters or furniture can help capture that same visual link.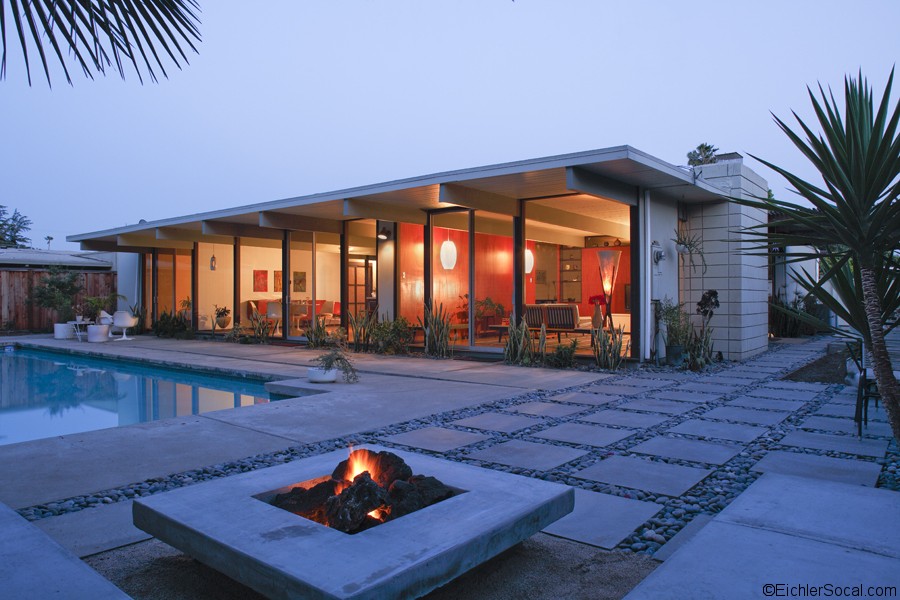 4. Furniture & Accessories
Whether you are the mid century purist for whom nothing but an original Nelson bench will do or you are the young family whose mantra is IKEA practicality, choose furniture that is functional and free of unnecessary detailing.   Typically, mid century accessories such as light fixtures, door furniture and house numbers are simple, geometric shapes focused on functionality.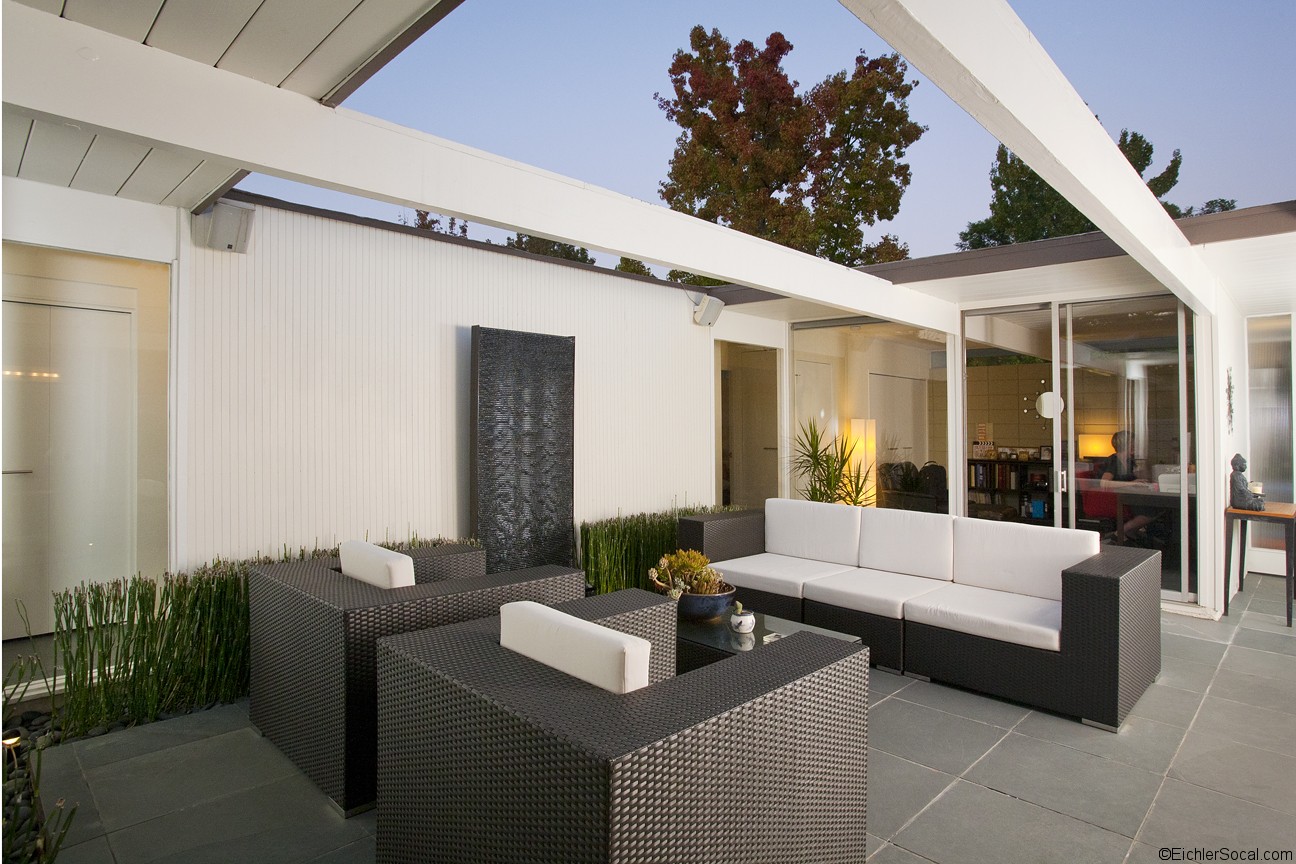 Whether your outdoor room be a dwelling space for relaxing or the threshold where the kids kick off their shoes, enjoy it.  Feel uplifted by it.  Live in it.